We offer a year-round syllabus of courses and classes across two central London locations – our studio and office at Cockpit Arts in historic Clerkenwell and school and office at 50 Chocolate Studios, on the achingly hip borders of Islington, Hoxton and Shoreditch.
The Carreducker Studio at Cockpit Arts
Studio W9
Cockpit Arts is one of the UK's only business incubators for craftspeople, housing up to 170 small businesses across two sites in London. Cockpit Arts Holborn, in historic Clerkenwell, has been home to Carreducker since inception – initially in a shared studio in the East Wing in E2G and since 2015, in a stand-alone space, W9, on the West Wing. The building – a converted furniture factory with metal framed windows, concrete floors, brick walls and a white washed exterior – is tucked away between two streets of Georgian terraced houses and wraps around a gated, cobbled yard.
Studio W9 is on the first floor at the end of a long corridor. The white-painted walls are lined with built-in shelving to house the many, many boxes of shoes. Specialist floor-to-ceiling shelves hold a mish-mash of delicious-sounding wine boxes, their contents sadly long-gone; but each now containing an assortment of the specialist materials and tools needed for shoe making or students' precious 'work-in-progress' a tall, thin leather store houses the aromatic rolls of leather; its surface covered with a peg-board full of intriguing tools; whilst huge bends of oak bark tanned leather hang from the ceiling, adding to the wonderful, all-consuming smell of leather.
A long low table down the middle of the room is where the main action takes place. This is the workbench. It's where the bespoke shoes are made and masterclasses and one-to-one courses for beginners are held; the heart of the shoe making experience.
Bloomsbury and Clerkenwell
History:
Cockpit is located on the Bloomsbury / Clerkenwell borders. Bloomsbury is the more bohemian of the two and home to the influential group of early 20th century writers, intellectuals, philosophers and artists including Virginia Woolf, Lytton Strachey and Vanessa Bell, known as the Bloomsbury Set.
From medieval times, Clerkenwell was a haven for trades and crafts like jewellery, lock-making, printing, bookbinding, shoemaking and clockmaking. Many trades remain, but the larger firms' factories and warehouses have now been converted into residential apartments.
The area remains a hub of creativity, with street upon street of elegant Georgian town houses and Cockpit Arts, at its heart.
Things to do:
This is a vibrant area with a 'village' feel centred around Lamb's Conduit Street and Brunswick Square.
There are ample green spaces a short walk away; the beautiful gem that is St. George's Gardens, Queen's Square Gardens near Great Ormond Street, and the large oases of Russell Square, Lincoln's Inn Fields and Brunswick Square Gardens.
For shopping and mooching there is everything from the street stalls, food trucks and independent shops of Leather Lane or wonderful books of Magma to the glitzy jewellery district of Hatton Garden and the boutiques of Rugby Street and Lamb's Conduit Street; Folk, Oliver Spencer, Maggie Owen, Pentreath & Hall, J Crew, Persephone Books, Volte Face and Aesop to name but a few.
Favourite local bars and cafes include The Lady Ottoline, Cigala, The Rugby Tavern, The Duke and Ciao Bella; and Hopper, Redemption Roasters and Knockbox for coffee.
This is an historic area with stand-out architecture including Doughty Street, The Renoir Cinema, The Brunswick Centre, the Old Prudential Building and the Georgian terraces of Grey's Inn, Great James Street and Bedford Row. Kings Cross is a 15-minute stroll away with its wonderful redevelopment, great restaurants and relaxing pedestrianised plazas.
Underground: Cockpit Arts is equidistant between Russell Square, Holborn and Chancery Lane underground stations and a 15-minute walk from Kings Cross and Farringdon stations.
Bus routes include: 21, 43, 55, 76, 135, 141, 205, 243, 394
Cockpit Arts: Walk into Cockpit Yard and on the right-hand side you will see a large steel door. Please press the buzzer for W9 and we will come down to let you in.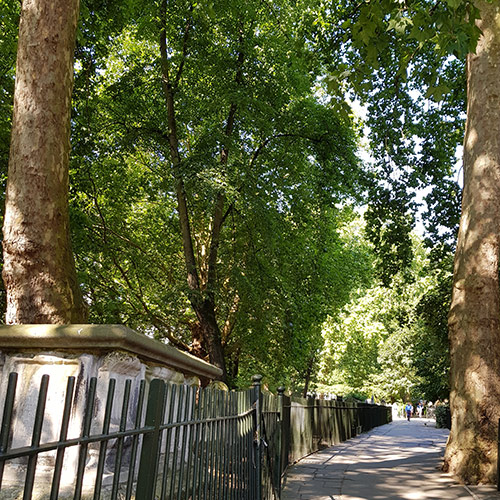 Carreducker at 50 Chocolate Studios
50 Chocolate Studios
Chocolate Studios is a converted warehouse on the Shoreditch / Hoxton borders dating back to the area's manufacturing heyday, with an original brick façade and vast, Crittal windows tucked securely behind Shoreditch Police Station. Only the ground floor has been retained as business premises, the rest are luxury apartments.
Newly-renovated, 50 Chocolate Studios retains hints of the past, with exposed brick detail, supporting beams and industrial, floor-to-ceiling windows. The main work room is open plan with a bespoke work table, vintage plywood chairs and a full-length tool wall; the second room is our office and clicking & closing room; and there is a sleek modern bathroom and small kitchenette within the studio space.
Shoreditch and Hoxton
History:
This area has a great tradition of makers and innovators and is home to a vibrant tech community around Old Street, London's 'silicon roundabout'.
The City of London remains home to 110 Livery Companies (the medieval trade and craft guilds) including three shoe-related ones; the Worshipful Company of Pattenmakers, Worshipful Company of Leathersellers and the Worshipful Company of Cordwainers. These Liveries continue to flourish fostering their trade in a wide context, serving the community, and embracing modern skills and professions. Many have Livery Halls nearby, some of which are open to the public and are well worth a visit – Girdlers Hall, Haberdashers Hall, Skinners Hall, Dyers Hall and the Coopers Hall – as is Bunhill Fields (where William Blake, Daniel Defoe and John Bunyan are buried).
Chocolate Studios itself is just around the corner from The Eagle pub made famous in the popular music hall song Half a pound of tuppeny rice which references it "Up and down the City Road, In and out the Eagle, That's the way the monkey goes, Pop! goes the weasel".
Things to do:
There is plenty to do here; Spitalfields Market, Columbia Flower Market, Brick Lane and BoxPark are ideal for mooching about at the weekend; the City's many shops and bars are abuzz in the evenings; hotels and bars abound with the Queen of Hoxton rooftop and Hoxton Hotel of particular note (worth a visit even just for a drink); and there is plenty of green space within a short walk, havens to relax in, including St. Lukes, Wenlock Road, Aske, the Geffrye Museum and King's Square Gardens and Shoreditch and Graham Street Parks.
Underground: The nearest underground station is Old Street; take the City Road North exit and walk up City Road for about 5 minutes.
Bus routes include: 21, 43, 55, 76, 135, 141, 205, 243, 394
Walking from City Road: Turn right at The Shepherdess Café into Shepherdess Walk, then immediately right again into the alley just before The Eagle pub. Walk along with the brick wall on your left side until you reach a black security gate straight in front of you. There is an intercom on the left-hand side of the gate. Press the buzzer for 50. Once you are through the gates continue ahead and then turn left down a couple of steps to the metal doors…you will see a sign for Carreducker by the door. Press the buzzer for 50 again.