Carreducker at 50 Chocolate Studios
We are based in a beautiful workshop and showroom at Chocolate Studios, just off the City Road, on the achingly hip borders of Islington, Hoxton and Shoreditch. Our nearest landmark is The Eagle pub made famous by the old English song, "Pop goes the weasel!"

Chocolate Studios is a converted chocolate factory dating back to the area's manufacturing heyday, with an original brick façade and vast, Crittal windows tucked securely behind Shoreditch Police Station. Only the ground floor has been retained as business premises, the rest are luxury apartments.
Newly-renovated, 50 Chocolate Studios retains hints of the past, with exposed brick detail, supporting beams and industrial, floor-to-ceiling windows. The main work room – where we run our year-round syllabus of courses and classes for beginners and experienced shoemakers alike – is bright and airy, with a bespoke work table, vintage plywood chairs and a full-length tool wall; the second room is dark and cosy and acts as our workspace, office and bespoke showroom where we see bespoke customers by appointment; there is also a sleek modern bathroom and small kitchenette within the studio space.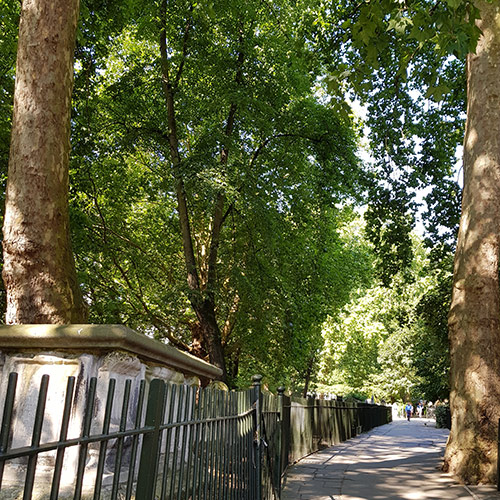 Shoreditch and Hoxton
History:
This area has a great tradition of makers and innovators and is home to a vibrant tech community around Old Street, London's 'silicon roundabout'.
The City of London remains home to 110 Livery Companies (the medieval trade and craft guilds) including three shoe-related ones; the Worshipful Company of Pattenmakers, Worshipful Company of Leathersellers and the Worshipful Company of Cordwainers. These Liveries continue to flourish fostering their trade in a wide context, serving the community, and embracing modern skills and professions. Many have Livery Halls nearby, some of which are open to the public and are well worth a visit – Girdlers Hall, Haberdashers Hall, Skinners Hall, Dyers Hall and the Coopers Hall – as is Bunhill Fields (where William Blake, Daniel Defoe and John Bunyan are buried).
Chocolate Studios itself is just around the corner from The Eagle pub made famous in the popular music hall song Half a pound of tuppeny rice which references it "Up and down the City Road, In and out the Eagle, That's the way the monkey goes, Pop! goes the weasel".
Things to do
There is plenty to do in the area; Spitalfields Market, Columbia Flower Market, Brick Lane and Box Park are ideal for mooching about at the weekend; the City's many shops and bars are abuzz in the evenings; hotels and bars abound with the Queen of Hoxton rooftop and Hoxton Hotel of particular note (worth a visit even just for a drink); and there is plenty of green space within a short walk, havens to relax in, including St. Lukes, Wenlock Road, Aske, the Geffrye Museum and King's Square Gardens and Shoreditch and Graham Street Parks.
Underground: The nearest underground station is Old Street; take the City Road North exit and walk up City Road for about 5 minutes.
Bus routes include: 21, 43, 55, 76, 135, 141, 205, 243, 394
Walking from City Road: Turn right at The Shepherdess Café into Shepherdess Walk, then immediately right again into Shepherdess Place, the cobbled street next to The Eagle pub. Walk along with the brick wall on your left side until you reach a black security gate straight in front of you. There is an intercom on the left-hand side of the gate. Press the buzzer for 50. Once you are through the gates continue ahead and then turn left down a couple of steps to the metal doors…you will see a sign for Carreducker by the door. Press the buzzer for 50 again.