Make Your Own Shoes: 12-Day Handsewn Shoe Making Course
£2,395.00 – £2,995.00
Immerse yourself in shoemaking tradition, as you learn to make your own shoes working alongside us in our workshop. We'll guide you, through trial and demonstration, as you develop the skills and techniques of one of the most challenging and rewarding crafts to learn, handsewn shoe making.
CHOOSE YOUR SHOES
Try on a pair of sample shoes to confirm your size
Choose from a Derby, Oxford or Wholecut shoe or a Derby boot
Wholecut shoes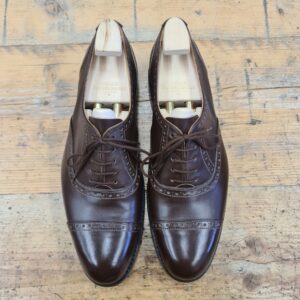 Choose from a variety of leather colours
Choose your shoe details
THE COURSE
The course is designed for complete beginners and includes:
All the materials that you need, including a pack of Bakers of Colyton oak bark leather
A comprehensive set of shoe making notes
And a starter pack of tools
You can also choose to have a pair of personalised, wooden shoe trees made to fit your shoes.
During some 96 hours of training time we will guide you through the 200+ steps in the traditional English handsewn shoe making process.
At the end of the course you will proudly walk away with a pair of shoes that you have made yourself!
MATERIALS
All materials included; shoe trees available to order.
Fee
From £2395 / From £2465 with shoe trees
BOOKING
Book now, choosing your style, colour, size and details and then email us to arrange a time to come in to try on a sample pair of shoes to confirm your size and to discuss a schedule that suits you.
See our full Terms & Conditions here.